Expertise is the knowledge or skill you've gained from becoming an expert in a particular field.
In this article, we explore eight elements that will help you effectively share your expertise so that your prospects will see you as an expert with the solutions that will help solve their problem. You're more than a salesperson, you're more than an entrepreneur, you're a thought leader. Now, let's learn how to act like one!
1. Language
It's important that you speak their language. Don't use your expert jargon, use the jargon of the person your speaking to so that you can be relatable.
2. Audience of One
Even if you're speaking to a crowd, you must make every person feel as though you are speaking to them. This will foster a deeper connection between you and your audience, which will make it easier to build lasting trust with them.
3. Wisdom
Unfortunately, there's an inherent distrust of experts in our society, especially right now… so coming off as super clever or a "know-it-all" won't boast well when it comes to converting leads into customers and customers into long-term, loyal customers. The challenge of selling is not to demonstrate to our prospects how clever we are, the challenge is to be wise enough to get to the root of their problem and present them with solutions.
"A wise person asks questions whilst a clever person tells you things…"
4. Your Message
Your message is your cause or your 'why'. It tells people what you stand for and why you want to help. Forget the fluff, your message is what people truly want to hear, so make it the centre of the conversation.
Challenge:
Define your 'why'. Then, come up with three ways you can be more relatable to your prospects. Clue: Think stories… do you have a relatable story that's worth sharing?
5. Communicate
How and where you communicate is important. Think about your customers and where they exist, both in the physical world and the digital world. Which spaces and platforms do they hang out? That's where you need to be.
Additionally, it's essential that you don't be too pushy or too loud with your communication. Nothing turns off a customer more than a salesperson being in their face about the "latest and greatest." Find a neutral, yet upbeat manner of conveying your message with their best interest in mind and they will likely stick around to listen.
 "Don't shout in an empty town hall! It doesn't matter how good your message is if nobody is there to listen"
6. Teach
This is where we need kick imposter syndrome to the curb, if necessary. Show your customers how their business can be more successful by showing them how you use your service or product. Demonstration is a key method of teaching as it creates a sense of relatability and being on the same page. It's also an easy way to show off your expertise.
Then, you can tell them how your product or service will benefit their business and further the learning process by asking them questions and answering any questions they may have.
7. Have an Offer
You've captured your customer's attention… now what? You need to have something small to offer to them. An offer doesn't need to be a discount or a free product, it can be an invitation to an event, a free digital guide or book, or a chance to chat further for recommendations or advice. There are many ways to create an offer for your customers to keep them engaged, what matters is that they feel the offer is of value to them.
8. Proof
It's not enough to tell your customers your product or service works. They need to see it for themselves. Again, there are several ways you can provide proof to your customers, just make sure you're providing genuine, relatable proof. Using the media is a great place to start!
Testimonials
Case Studies
Press
Word-of-Mouth
Your Own Personal Story
Challenge: Where do you need to show up to effectively communicate to your audience? Once you've figure that out, create an offer that your customers can't resist (that won't break the bank) and come up with two forms of genuine proof to show them.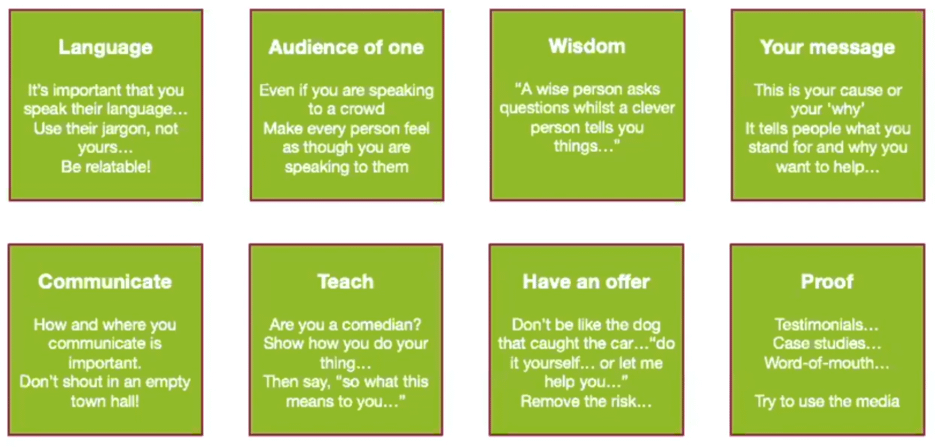 Sharing your expertise will be a breeze once you master these eight elements.
Remember to remain authentic and relatable while you share your knowledge. Work on one each day for the next week or so and in no time, you'll be confident in your expertise and excited to share it with the people who need to hear it the most – your target market.
Has this article got you thinking about your business and how you want to grab the reins and drive it forward but you struggle to find the time or feel that you lack the skills or knowledge to do so?
Are you looking at your screen wondering how or if Good2Great could possibly help you to build a better future for you and your company?
If so, why not check out free ways to learn more either in the fun but growth focussed 'Friday Hub Zoom Room' or let's meet and chat about your business – it's our passion after all! Just click this link, it will show you availability in my calendar – just grab a slot that suits you and it will automatically set up and schedule a Zoom meeting and send all the necessary invitations to calendars and email… https://bit.ly/meetingwithjohnny
OR – perhaps you're still at the start of your business journey – check out Business Start Up Masterclasses