On this episode of the Saturday Strategy Podcast:
On this episode of Saturday Strategy, host Johnny Themans welcomes Sophie Walton, a brand and social media expert, e-commerce and lead generation Facebook Ads marketer.
Sophie is the Founder of 3twleve, a talented, experienced team of marketing professionals on a mission to create impactful brands and marketing campaigns.
Facebook Ads for B2B leads
Did you know that Facebook is a great source of highly valuable and qualified leads for B2B companies? Sophie is here to talk about why your business could benefit from improving lead generation and marketing on Facebook. In the interview, she covers four steps you should take to successfully market your business with Facebook Ads.
Techniques on how to identify your advertising audience so you put your ads in front of the right people.
Selecting the right ad format including video, images, carousels, slideshows, messenger ads etc.
Ways to offer attractive incentives to customers in your marketing.
Optimising your campaigns so you really hit the mark.
"Whether you're coming from a B2C or a B2B angle, Facebook Ads is a great platform to shout about your business, for sure."                                                – Sophie Walton
Ready to showcase your small business in front of a large audience?
Tune in to learn how!
To learn more about 3twelve, visit: www.3twelve.co.uk
About Sophie
Sophie Walton helps SME businesses refine their brand and social media marketing strategies according to their business objectives and ideal target audience. Her business, 3Twelve, also strategises, sets up and manages lead generation and e-comm Facebook campaigns that generate leads, sales, and drive business growth.
She is passionate about branding, social media and Facebook advertising. And she loves seeing the teams that she works with get excited about creative design, compelling social media content and leads and sales being generated through marketing activity to help their business flourish.
Connect with Sophie on LinkedIn: www.linkedin.com/in/sophie-walton-3877b221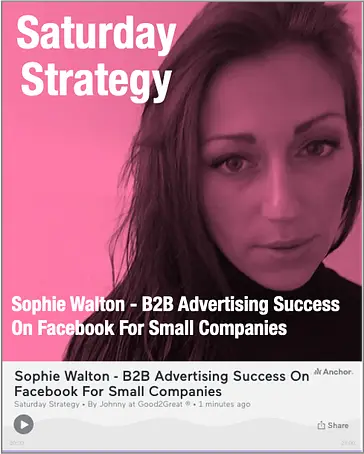 Connect with Sophie
Connect with Sophie on LinkedIn: www.linkedin.com/in/sophie-walton-3877b221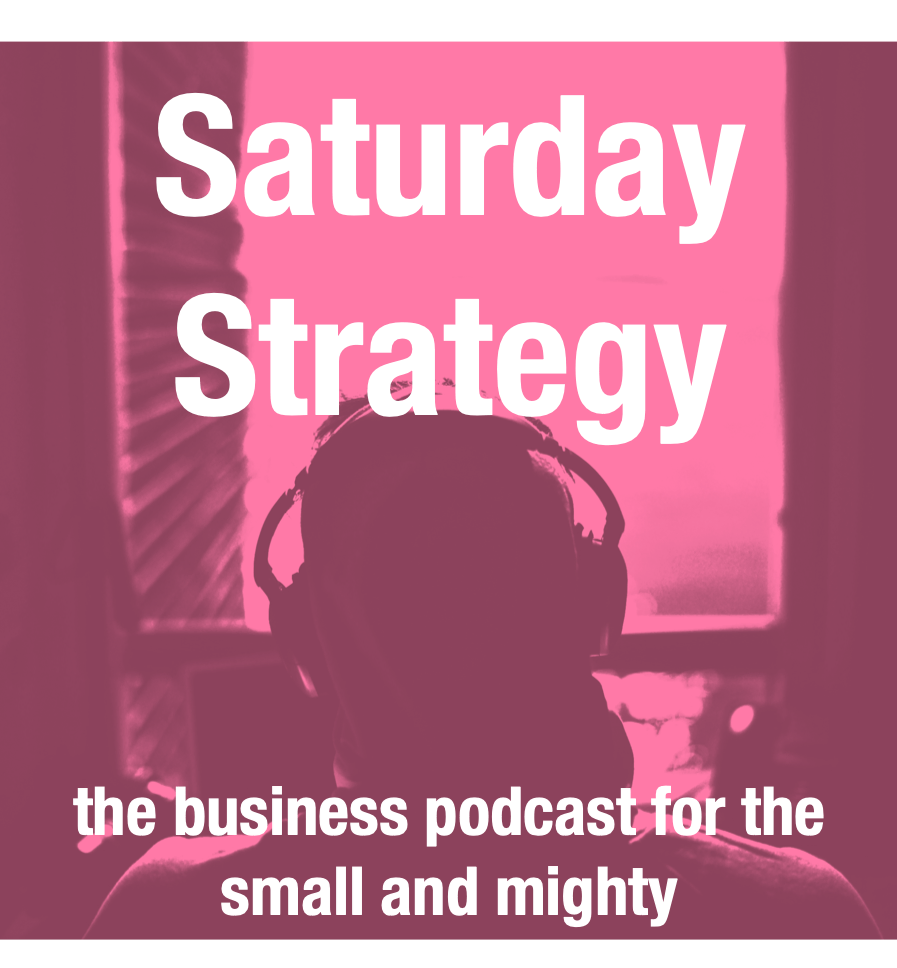 About the Saturday Strategy Podcast
All too often, whilst we're running our businesses, we're just too busy to learn everything we need to learn. And the upshot of this is that staying ahead of the curve is just about impossible.
That's why we've developed this practical business strategy podcast for business owners. In each episode, we aim to provide you with regular bite-sized easy access to carefully chosen experts. And they share their wisdom to help solve this problem by telling us what we need to know.
This way, we can cut through the crap and get on with growing our business…
Other ways to listen








What Next:
Thanks for taking the time to read this article.
When you're ready, why not sign up to attend the next FREE SEMINAR. We run these events to give business owners like you the opportunity to discover how to put the steps in place to accelerate your business growth plans.
Then take advantage of a complimentary strategy review where we'll explore specific ways to help you achieve sustainable profitable growth…
You can find details of the next event here: LINK TO EVENTS
---