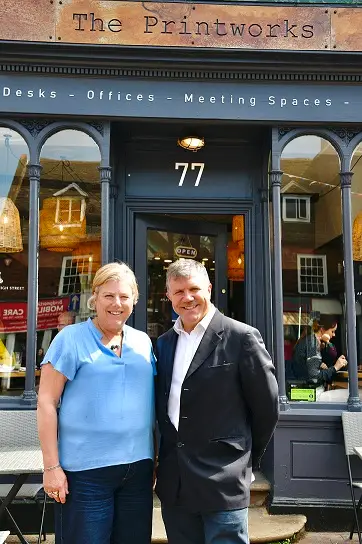 A project awarded £94,000 through Invest in Shropshire's UK Shared Prosperity Fund (UKSPF) has provided a new business and community space on Bridgnorth's High Street
What was the project?
A former shop on Bridgnorth High Street had stood empty for over 3 years. Sally and Johnny Themans of Good2Great who live in the town thought it would make a great space to create a business and community hub.
As Good2Great, Sally and Johnny are major contributors to the business community across Shropshire running start-up programmes for the past 11 years. They now host an online Friday Hub networking meeting with the Marches Growth Hub Shropshire for businesses in the county. Sally is also keenly involved in High Street regeneration and is responsible for the Love Bridgnorth and Love Wellington initiatives.
Johnny comments "It chimed with our business ethos and personal drivers: helping people to start a business, repurposing a defunct building in a prime location on the High Street and creating a community space for people to meet and work together."
To create the space, Good2Great created a partnership with Apley Estates, who own the property. The owners have a firm commitment to community initiatives and therefore were extremely keen on the project right from the outset.
Subsequently, supported by funding provided by the UKSPF, 'The Printworks' opened as a Community Interest Company (CIC) on 7th June 2023
What did the funding provide?
Johnny comments, "We wanted to create a non-commercial accessible space promoting opportunity, and to retain and attract talent to Bridgnorth."
The building had previously been a restaurant and before that an actual printworks. Situated in a prime location, the building was unoccupied and had fallen into disrepair making it a bit of an eyesore on the High Street."
The restored building now has attractive frontage and good signage. With its modern and airy interior, the aptly named 'The Printworks' provides an inviting space that can be utilised by both businesses and the community.
The Printworks provides 18 'hot desks', 2 meeting rooms, 5 offices, 'zoom-booths' an outdoor seating area, a small kitchen and excellent broadband coverage. There is now also a café open to the General Public in the former shop area,' Apley on the High Street.'
Johnny continues, "At Good2Great and through our new business Good4Good CIC, providing social value, supporting the community and bringing people together to work, network and start and grow businesses in Shropshire is immensely important to us. This project and the funding have enabled us to demonstrate our commitment to supporting the High Street, our business community and those who live and work in Bridgnorth."
How successful is the project?
Within 3 weeks of the opening 29 people had signed up to use the facilities at The Printworks.
Clientele include start-up or established businesses needing to beat the isolation of working at their kitchen table, businesses that need temporary office space or the use of an office just once or twice a week, and staff working for larger organisations from as far afield as London.
Johnny comments, 'From talking to businesses, we know people want to embrace the new paradigm of flexible working but also need to give structure to their day by working in an office-type environment at least some of the time.
Larger organisations from further afield that have embraced hybrid-working also now know that we have a cost-effective and comprehensive solution right here in Bridgnorth for their staff who live locally to the town."
How has the project benefitted the county?
Sally comments, "Businesses, and especially people who are starting businesses, need a peer group and support.
Networking, making new contacts, sharing ideas, and basically having someone to talk to is important for well-being and maintaining motivation when you are a small business.
We believe we have created that at The Printworks. We've done our best to create an attractive space that businesses can utilise and afford. Being on the High Street we are also highly visible to the Bridgnorth community, and they have whole-heartedly supported the venture."
What does the future hold?
Johnny concludes, "A tremendous amount of energy, passion and enthusiasm were invested in this initiative. It's been a very successful 'coming together' of individuals and organisations, including representatives from the Business and Growth team at the Council.
In the scheme of things this is a small-scale infrastructure project, but relatively small projects like this, supported by the Council through funding initiatives, can make a tremendous difference to places like Bridgnorth.
We still have space in the building that we are hoping to develop further and want to widen and diversify our clientele, namely the arts community, as we move into the second phase of 'The Printworks'. www.theprintworks.co
About the Funding
The UK Shared Prosperity Fund (UKSPF) is a government-allocated fund managed by local authorities in partnership with local stakeholders. It seeks to reduce inequalities between communities, as part of the Government's wider "levelling up" agenda. It has been put in place to replace funds previously provided by Europe. The overarching objective of the fund is to build pride in place and increase life chances. The programme includes 3 investment priorities: Supporting Local Business, Community and Place, People and Skills.   All grants awarded are bound by public funding rules including the Subsidy Control Act (2022)
Further information available on https://www.investinshropshire.co.uk/relocating-and-investing/uk-shared-prosperity-fund/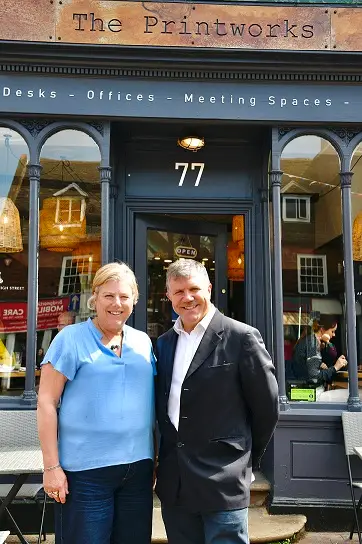 Read the full story:
https://www.investinshropshire.co.uk/funding-stories-the-printworks-bridgnorth/