Was it a symphony or an ear-jarring cacophony?
Well, I hope that went well and you're all rested and recharged and ready to pick up where you left off last decade… I thought it would be helpful to let you know, before we take this fully public, about a key new programme that's launching this year – more of that later…
We had an interesting (and pretty amazing) little treat over the break.
We went to Symphony Hall in Birmingham and enjoyed a spectacular concert of some of the very best movie music by Hans Zimmer and John Williams.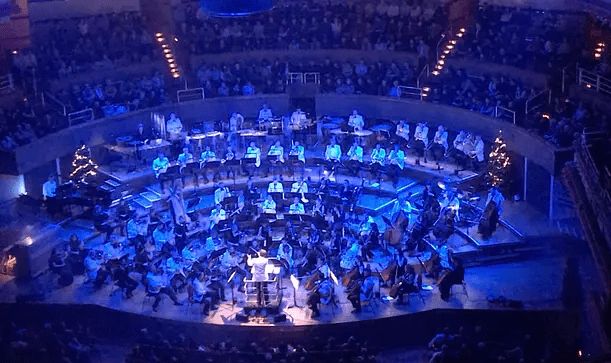 The standard was amazing and did real justice to the genius of the composers. So why am I sharing this? Well, as I watched the 80+ musicians in awe, I reflected on what it takes for a concert like this to happen. What factors are at play to give us a beautiful symphony instead of an ear-jarring cacophony?
The key elements might be something like this:
The written music needs to be brilliant – this is their plan…
They need to ensure they have the right type and quantity of musicians – A strong team.
The musicians need to be talented – The team has the right skills.
The musicians need instruments to play – the tools to do the job.
Nothing happens without a conductor – strong leadership to pull it all together.
Finally, they need an audience – customers to consume the show and pay the bills.
Your business isn't that different really. But, if you're honest with yourself, is it always as in-tune as you'd like? In 2020 you can continue sometimes hitting the wrong notes or humming along to cover for the fact you've forgotten the words… OR you can pull it all together to make your business really sing.
So, how can Good2Great help?
We help you identify the key elements to get it right (there are actually eleven). When they're all working properly, your business will grow. And when we say grow, we mean a comprehensive and sustainable strategic process to grow sales, grow profit and grow cash.
We started back in 2007 and have worked with hundreds of businesses. Through this experience we've built a model so we can quickly benchmark where your business is, and assess the best potential for growth. It's called the Sales and Cash Growth Generator and provides a proven route to success to ensure you work on the areas which will impact the most.
You can find out more by coming  to our Business Growth Roadshow events – free to attend and last just a morning.
Thanks for taking the time to read to the end, perhaps this is your first step to unlock the future potential of your business. Let's speak soon so we can embrace the roaring 20's and you can face the music rather than a cacophony.
Has this article got you thinking about your business and how you want to grab the reins and drive it forward but you struggle to find the time or feel that you lack the skills or knowledge to do so?
Are you looking at your screen wondering how or if Good2Great could possibly help you to build a better future for you and your company?
If so, why not check out free ways to learn more either at a seminar or in a free one-to-one business health check.
Either way – click this link to learn more about Free support from Good2Great
OR – perhaps you're still at the start of your business journey – check out the Business Start Up Bootcamps