Learn from the market traders…
We were chatting in the office earlier about visiting a local show and how much we alI love watching the sales guys who are selling the vegetable and fruit slicers or those pitching the almost industrial spec food blenders.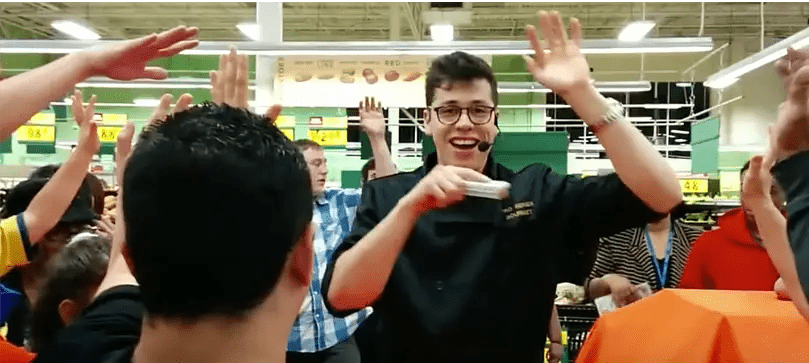 It isn't particularly that we have an interest in food prep. It's because their sales and marketing technique is so well developed.
So, today, we thought it might be helpful to deconstruct the key principles of how they work so you and I can use them in our businesses right now.
It isn't that complicated, but it's really important. And whilst seasoned sales professionals may know these steps as a matter of course. Many don't understand, forget, take short-cuts, or get stuck and then struggle to create demand and convert sales as effectively or efficiently as they should.
Let's think about how these sales genius's presentations go.
The first thing that stands out is that they build their audience and develop rapport before they pitch.
Imagine you're in that audience as the presenter seamlessly slices vegetables whilst chatting and passing the time of day.
They will engage with the audience as a whole, but also focus on individuals, assessing their motivation for pausing to watch and qualifying their appetite and ability to buy.
They resist the urge to jump in and sell immediately. A sure way to frighten people off…
Eventually, the presenter starts talking about the product. More often than not, they will launch with a free offer.
At this point, some people will walk away, and the audience will shrink a little. This is the initial qualification stage.
The good news is that many of the time wasters are now gone!
Then they'll explore problems with your existing solutions and present amazing alternatives.
This is the desire creating phase. Nobody buys unless they desire it and the sales person needs to make sure they desire it enough to eventually buy.
The penultimate step is to address objections head on.
Maybe they ask the audience how much they would expect to pay? Can you picture it?
"I'm not going to charge you £500, I'm not even going to charge you £200 – Today you can get this widget for just £150 and what's more you'll also be able to claim your free deluxe special offer!"
Then they'll close. And they will know who is ready to buy and their attention will become focussed on the one or two people who are ready…
What are the lessons?
So, no matter whether you are selling a juicer on a market or bespoke engineering solutions to multinational organisations – here are the key learnings:
Build your audience before you sell
Develop rapport
Work out who's most likely to buy
Create desire – fix problems
Tackle objections
Make a pitch
Close
Has this article got you thinking about your business and how you want to grab the reins and drive it forward but you struggle to find the time or feel that you lack the skills or knowledge to do so?
Are you looking at your screen wondering how or if Good2Great could possibly help you to build a better future for you and your company?
If so, why not check out free ways to learn more either at a seminar or in a free one-to-one business health check.
Either way – click this link to learn more about Free support from Good2Great
OR – perhaps you're still at the start of your business journey – check out the Business Start Up Bootcamps